The Trash Warrens are the worst area in Sigil's Hive.
A portal in the northwest of Ragpicker's Square, opened with a piece of Junk, allows one to traverse the huge pile of junk blocking the way to the entrance to the Trash Warrens.
Inhabitants
Edit
Otherwise, the Warrens are filled with collectors and Trash Warrens Thugs, who, like the Hive Thugs, respawn and become hostile some of the time.
To view X, Y coordinates in-game, press L.
Click the map to enlarge it.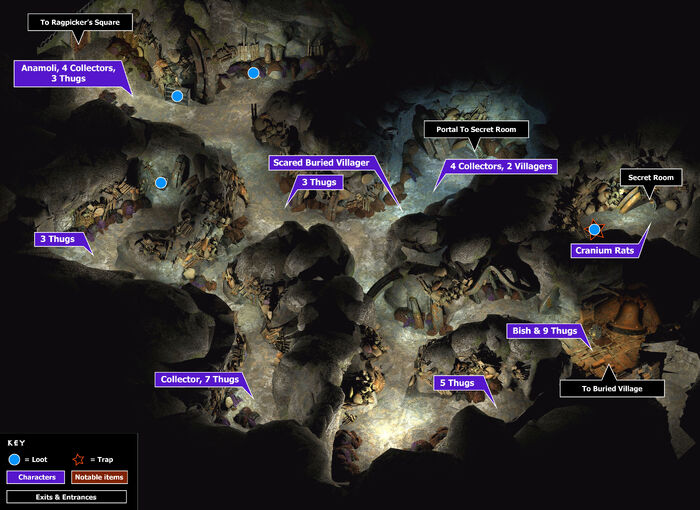 There is a secret room in this area, accessible through a portal at (X=3280 Y=1080), which is opened as long as TNO has a Cranium Rat Tail in his inventory. Entering the portal makes the party emerge in a room filled with Cranium Rats. Since there are so many, the rats can cast magic spells. The crate in this room has many valuable items (see below.)
Experience
Edit
A part from the experience gained by killing enemies, there is one opportunity to gain experience (see the character page for more information on the conversation and alignment changes.):
A few items can be found in this area:
On a shelf, near the entrance (X=1250 Y=700):
Pile of trash not far from the entrance (X=1880 Y=600):
Crate (X=1150 Y=1300)
Crate in the secret cranium rat room described above (X=4140 Y=1630):