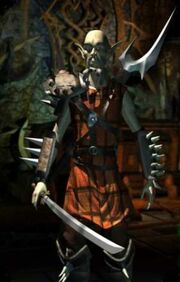 Dak'kon is a Githzerai (WP), a people who live in Limbo, where the form of matter itself can only be held together by concentration. They thus place great emphasis on the holistic knowledge of things and even the word *know* and its derivatives. He used to be a Zerth, but in not *knowing* the teachings of Zerthimon he left the City of the People.
He is a Fighter/Mage, and can teach The Nameless One both the Art and the knowledge of weapons.
He is voiced by Mitch Pileggi (Assistant Director Skinner on the X-Files)
Biography
Edit
"My past is not known to you. It is not my will that you should know it. Know that I bear the scars of one who has travelled the Planes. Know that I have never rested long in any one place. Know that I bear the weight of one who has travelled far to be in this place. Know that I am a Githzerai. Know that I am of the people of Zerthimon. It was Zerthimon who knew the Githzerai before we knew ourselves. He knew what had to be done to free us. From his knowing, came action. From his knowing, freedom was born. The Githzerai ceased to be slaves and became a people. Know that I follow the Unbroken Circle of Zerthimon. His words are known to me. His heart is known to me. All that remains is that I know myself."
While translating the Circles of Zerthimon, it is revealed that Dak'kon had a crisis of faith which forestalled his learning of the Githzerai mysticism; The Nameless One can surpass Dak'kon in these teachings, and aid him in proceeding with them.
Shrak'at'lor
Edit
The Nameless One (TNO) can ask Dakkon about this subject anytime after returning from Pharod and going to Fell's tattoo parlour; Kii-na also mentions it specifically after the Yi-Minn event.
Dakkon reveals that he was a leader in the city of Shrak'at'lor and his word was relied upon by its inhabitants to reinforce the willpower required to keep it whole and functioning. When Dakkon came to doubt the teachings of Zerthimon, his will faltered, and with it, the peoples will, and their city.
An earlier incarnation of TNO rescued Dak'kon from the ravages of Limbo after the city's fall, and used this life debt to prevail upon Dak'kon to do his bidding, effectively enslaving Dak'kon. The present incarnation can convince Dak'kon, up to a point, that there was no debt because Dak'kon's crisis of faith only worsened after he was rescued.
| | HP | AC | THAC0 | STR | DEX | CON | INT | WIS | CHA |
| --- | --- | --- | --- | --- | --- | --- | --- | --- | --- |
| Initial | 33 | 6 | 18 | 17 | 16 | 16 | 13 | 13 | 13 |
| Upgraded | | | | 18 | 18 | 18 | 13 | 13 | 13 |
Animation and voice files
Edit
In addition to unique fighting moves, each character has their own running animation, 'breathing' animation, and intermittent 'fidget' animation.
All characters have at least one 'selection' response, and at least one 'command confirmation' response. Most have a 'miss' comment, and a 'critical hit' comment. They have an appeal when they are at very low HP, less than 15%, and when they die. And they all have a 'level up' comment.
After a period of no activity by the player with mouse or keyboard, characters will randomly speak 'bored' pronouncements. They will occasionally speak dialogue expressing their mood or sentiments, particularly in relation to other companions, or a particular location. And they will engage in conversations with certain of their fellow party members.[1]
'Fidget' animation: Dak'kon stretches his left arm and blade back, and sweeps his right from in front of his chest, to the side, while lifting his left thigh up, knee bent
'Bored' pronouncement: "Time is precious. Let us not squander it here."
Selection: "Balance in All Things", "I shall serve". Command: "Your will be done."'', "Endure. In enduring grow strong.", "I hear your words.", "I will hear you.", "It is I."
Command: "Your path is mine.", "I shall serve.", "Your will be done."
Critical Miss: "...Tachia's' folly". Critical Hit: "The Karach sings true." Appeal: "I am wounded." Death: "So again it has come to pass."
Level Up: "In knowing the teachings of Zerthimon I have become stronger."
Moody: (Location: Modron Maze): "This is Limbo, yet it rings of Mechanus."
Interactive dialogue:
Grace: "Your combat skills are most impressive, Dak'kon." Dak'kon: "They are but specks upon Zerthimon's path"
Grace: "Your mastery of discipline is impressive, Dak'kon." Dak'kon: "In the eyes of Zerthimon, I am nothing." Grace: "Surely you are being too harsh on yourself." Dak'kon: "A long road must I still travel. This is but the beginning."
As a spell caster, Dak'kon has a couple of spellcasting voice files: "There cannot be two skies" (pronouncement of Zerthimon), "In Zerthimon's name."
Due to the bonding of his self to his blade and armor, he has a few files that activate if the player attempts to remove them, and when the blade levels up: Remove: "The blade will not exist if it is taken from me.", "The karach blade is tied to me. Neither may exist without the other.", "This ceremonial armor is the symbol of a *zerth*. I will not part with it." Level Up: "My blade has changed.", "My blade has shifted."
Characters also have 'Inventory full', 'Encumbered, cannot run', 'Encumbered, cannot move', 'Bash success', 'Bash fail', 'Target immune to weapon'
All characters have files for when the player repeatedly selects them (such as hitting the number keys over and over): "Your reasons for your incessant clicking are not *known* to me.", "The flesh knows that it suffers, even when the mind does not.", "On the Blasted Plains, Zerthimon told Gith that there cannot be two skies. In the wake of his words, came war."
Citations
Edit