Annah


Vital statistics
Title
Gender
Female
Race
Tiefling (WP)
Faction
Free League - Indeps
Health
Maximum +5 each fighter level, +3 each thief level. Starts at HP
Level
joins party at minimum of level 4 in both classes, actual level based on party level
Status
Str 14, Int 12, Wis 10, Dex 18, Con 16, Chr 13
Location
Buried Village
Annah-of-the-Shadows, also known just as Annah, is a PC fiendling or tiefling (part human, part fiend) adopted by Pharod. Annah is one of the companions of The Nameless One. She is proficient in Thievery and can change TNO to the thief class and instruct the Nameless One (TNO) in thief skills, whereupon he can teach her in his thieving skills above 50%.
Annah is voiced by Scottish recording artist Sheena Easton.
A brash, young tiefling (person with fiendish heritage; one of Annah's grandparents was a fiend) Annah is chaotic neutral. She appears mostly human except for her tail. A fighter and a thief, Annah was raised by her step-father Pharod to be a capable rogue, useful for tasks that his more ordinary underlings could not complete. She has no tolerance for fools or the clueless, and is quite skilled at heaping verbal abuse, heavily laden with Hive slang, on those who annoy her.
Annah is a very useful ally as she can attacks her enemies with her punch daggers when they least expect it; she is able to deal an multiples of her normal damage up to 600% if she performs a backstab, which is extremely useful before fighting a boss or some very powerful creature.[1]. She is able to scout ahead of the party for any potential threats and traps.
Annah is a potential love interest for The Nameless One; if TNO manages to win her affections (which "just ends in a smooch"[2]) he is awarded with "a slight boost to her ability scores".[3]
Habits that are related to Anna's years of independent living are hard for her to shake off; when TNO trains her in thieving skills, she spells out to him that this partnership is not a sign of weakness.
(WP) is concerned, to the point of being afraid to enter Fell's Tattoo parlour. Although she can be found on the streets of Sigil (WP) very early in the game, The Nameless One only gets her in the party during the mid-portion of the game, where she will automatically join the party after completing a task for Pharod.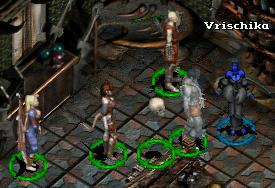 She can equip three tattoos, two earrings, two rings, and a bracelet. She can use many but not all available punch daggers, e.g. cannot use the Gauntlets of Teeth.
It has been said that she can dual-wield her punch daggers, but this is not apparent in the equipping screen; where equipped weapon slots are all outlined in yellow on her and all other characters, only one at a time of her weapon slots is outlined.
Animation and voice files
Edit
In addition to unique fighting moves, each character has their own running animation, 'breathing' animation, and intermittent 'fidget' animation.
All characters have at least one 'selection' response, and at least one 'command confirmation' response. Most have a 'miss' comment, and a 'critical hit' comment. They have an appeal when they are at very low HP, less than 15%.
After a period of no activity by the player with mouse or keyboard, characters will randomly speak 'bored' pronouncements. They will occasionally speak dialogue expressing their mood or sentiments, particularly in relation to other companions, or a particular location. And they will engage in conversations with certain of their fellow party members.
Annah has a Scottish accent
'Fidget' animation: With a minimum of movement, Annah moves her right arm up to her head to scratch the right side, and her tail to scratch the back of her head
'Selection': 'Ready'.
Command: 'Might as well'.
Miss: "Dammit!"
Critical hit "HAH!"
Appeal: "Oof, this is what I get for gettin' into a scrape."
'Bored' pronouncement: "If you need me, I'll be over here...bored"
Moody: (Companion dependent) "If you keep bobbin' about, skull, I'm going to mount you on the end of a pike"
Morte: "Annah, could you stop flicking that tail, it's irritating." Annah: "If you shut your trap, then I'll stop waving my tail." Morte: "Flick away then.
Morte: "So, fiendling, let me, uh, sit on your lap and hear a little story." Annah: "Oh yeah, you trying to sit in my lap would make a grand tale.... and a short one." Morte: "I'll just float over here and sulk then."
Morte: "It couldn't hurt you to say a few words to me, fiendling." Annah: "Oh, aye, it could... hurt yeh, that is."
Morte: "Say, Annah, does that tail go all the way up?" Annah: "Oh, aye, up your bone box to rip out your brains." Morte: (in a Scottish accent which is surprisingly accurate given the thick Morte accent, mimics Annah) "'Aye, up your bone box to rip out your brains.'"
Annah: "Stand away from me, Morte." Morte: "I can't stand anywhere. It's this uh, legs thing, you know?" Annah: "FIND a way, skull."
Morte: "You know, fiendling, I've seen the way you look at the chief. Nothing to be ashamed of. Just say something." Annah: "I'll never tell him how I feel, nor shall you prattle on to him about it. There's a mark o' doom on 'im, and I'll not sway him from his path. D'you hear me skull?" Morte: "All right, all right, calm down. Sheesh."
Morte: "If things get any worse I might as well go dip my pen in the Lady of Pain." Annah: "Watch yer bone box, skull, don't be takin' her name in vain like that!" Morte: "What, you mean the Lady of Pain? Is talking about the Lady of Pain a bad thing? Why would the Lady of Pain mind us talking about her, Annah?" Annah: "Are you tryin' to get us all carved to pieces? Don't you be temptin' fate with that, skull!" Morte: "Fate shouldn't tempt me."
Morte: "Uff, Powers Above, I've got this stupid itch on the back of my head again, it's killing me." Annah: "Ah, serves ya right, skull, ya sure irritate the rest of us enough." Morte: "You know, one day you'll have an itch you can't scratch and I won't help you. Then my revenge will be complete."
Morte: "Annah, if you don't like me staring, why do you wear that, um, you know, that... that vest?" Annah: "It lets my skin breath, ya eejit." Morte: "Well, sure takes my breath away."
Morte: "Fiendling, I have to ask, where did you get that accent?" Annah: "Accent? What are ye on about?" Morte: "Never mind."
Annah: "Donnae be fooled by that Succubus. She's interested in you, cause of the shape of yer neck. It's just right for her to sink her teeth into." Morte: "I can think of worse ways to go." Annah: "If ye need to go somewhere, skull, don't let us keep ye." Morte: "I have a name, you know." Annah: "I've several names for you. None of them fit for polite company."
Morte: "You know, fiendling, you'd look a lot better if you dressed up some more. You know, a pair of lace boots with lengthy heels on them to go with those emerald eyes." Annah: "Oh, if I were you, I'd learn to latch yer bone box." Morte: "Well, if I were you, I'd rent a suite and not come out for a month."
Grace: "Annah, were you raised in The Hive?" Annah: "Mind yer own business, Succubus, I've nothin' to say to ya." Grace: "Very well, then."
Annah: "So... how long will you be travelling with us, Succubus?" Grace: "As long as I am permitted, I suppose." Annah: "Well, yer not permitted. I don't trust ye."
Annah: "So, uh, when are ya headin' back to yer knockin' shop, Succubus?" Grace: "I don't know if I will be going back." Annah: "Well...? It's where ye belong, so maybe ye should!"
Annah: "Yeh better watch yerself Succubus. You step outta line, start huntin' for souls, yeh'll catch me blades." Grace: "I'll be careful. I assure you I have no such hungers." Annah: "Well, I would take yeh at your word, but since ye succubi are all perfumed, lying harlots, I won't." Grace: "Very well, then."
Annah: "I donnae trust that succubus. She's a fiend, so she is! They're all a-like, waiting for yeh tae to drop yer guard before sinking her teeth into yer neck. Don't ye be takin' yer eye off that fat slat, or she'll turn on ya faster than yeh can blink. All fiends are like that, so they are." Grace: "Not all of us, Annah. I would encourage you to be more open minded. You have fiend blood as well and you have many good qualities." Annah: "You just keep away from me. Fact, maybe you should keep away from all of us."
Annah: "I've had enough o' you and her. Go on, travel with her then, if ye like her company, I'll have nothin' more to do with ye." Grace: "Annah, jealousy is a two-edged blade. If you kee-" Annah: "Jealous? I'm not jealous! I don't even know how to spell jealous. I just don't trust ye... and none of us do!"
Annah: "How much longer are ye gonna be draggin' yerself with us, Succubus?" Grace: "Annah, look, we should-" Annah: "Oh don't you, 'Annah look' me, ya black hearted harlot, I'll carve yeh, so I will! Always puttin' on yer airs with yer fine clothes and yer nose up in the air -- I've had enough of yeh! Yeh can burn for all I care!"
Grace: "Annah, perhaps we should talk." Annah: "I've got nothin' to say to ye, succubus" Grace: "Very well, then."
Nordom: "Annah, does your tail assist you in maintaining your balance? Annah: "No, it's for scratchin' my back, ye soddin' box!" Nordom: "Yes, that is quite logical." Annah: "::Sigh::"
Nordom: "Annah, is your tail's purpose to indicate your current level of hostility?" Annah: "What kinda stupid question's that, ya pikin' sod box?" Nordom: "My analysis appears correct: Danger! Danger!"
Nordom: "Annah, is it true that you "dig" Morte?" Annah: "What?!?"
Conception and design
Edit
She is somewhat superstitious, especially where the Lady of Pain According to Chris Avellone (WP), she was inspired by the character Wikipedia:Betty Cooper: "Annah and Fall-From-Grace were inspired by Betty and Veronica from Archie comics, embarrassingly enough."[4] The character was voiced by and modeled upon the singer and actress Wikipedia:Sheena Easton.[5]. Annah's most prominent features are her tail and milk white skin, she also sports tattoo of a wyrm on her right thigh. Described as being on the brink of womanhood suggests that she 17 or 18 years old. Quoting The Nameless One she have beautiful green eyes like emeralds and flame red hair.
Annah was described by the Planescape: Torment concept artist Eric Campenella as "very acrobatic and dexterous so her outfit is light and made of leather. She has light arm and leg armor on one side which, combined with her agility, affords her better protection than full plate since this would hamper her movement. The armor is also somewhat mismatched since she is not particularly wealthy and probably acquired the pieces at different places and times in her life. The spiked shoulderpad is probably more for ornamentation and gives off an intimidating air. I would be dishonest if I didn't say the outfit is somewhat revealing partially to show that she is a free spirit and partially because it is appealing to me as an artist. Hey, at least I'm Honest! Her weapons are punch daggers, which are basically brass knuckles with blades attached to them. So she has wild-west style holsters on her legs for quick-draw action."[6]
"In celebration of Wikipedia:St. Patrick's Day and an excuse to thank all of you for buying and playing Torment," the developers released the "Power Action Leprechaun Annah" version (also created by Eric "Mr. Spells Madman" Campanella) as a free DLC.[7]
In the novel
Edit
In the loose novelization of the game by Rhyss Hess, Annah is similar in personality, but in many other aspects very different to her game incarnation. In the game, Annah's sole deformity is her tail. In the book, Annah is described as having beige skin, six functional fingers on each hand, thin black lips that barely frame her wide mouth, which is filled with a chaotic jumble of squared-off teeth and pointed fangs, white hair that covers her head like lamb's fleece in inch-thick curls, and slits of skin instead of ears. She also wears a tightly laced dark-purple bodysuit instead of the mis-matching scraps she wears in the game. She also differs by being a multi-classed thief/wizard instead of a fighter/thief and by going by the name of just Annah rather than Annah-of-the-Shadows.[8]
Reception
Edit
The character of Annah-of-the-Shadows was received very positively by the media and general public. Wikipedia:Eurogamer gave this "streetwise young tiefling woman with a twitching tail and a sharp tongue" the Gaming Globes 2000 award in the category Female Supporting Character.[9] Wikipedia:GameSpot included her on the 2000 lists of the ten best female characters in the PC gaming according to the staff and readers alike.[1][10] Wikipedia:Tom's Hardware included this "savvy and independent thief" on the 2007 list of the 50 greatest female characters in video game history ("Annah is a true standout"), applauding her for her "witty, sexy personality," and adding that she could be played Wikipedia:Kelly Macdonald in a live-action film.[11]
External links
Edit
References
Edit